Dr. Christine Chambers' Research Team
Dr. Chambers' research team consists of primarily clinical psychology trainees, including postdoctoral fellows and PhD students, as well as various full and part-time staff.
Dr. Chambers will be considering PhD students for September 2020. Please contact her directly at christine.chambers@dal.ca if you are potentially interested in being supervised by her through Dalhousie University's Clinical Psychology Doctoral Program.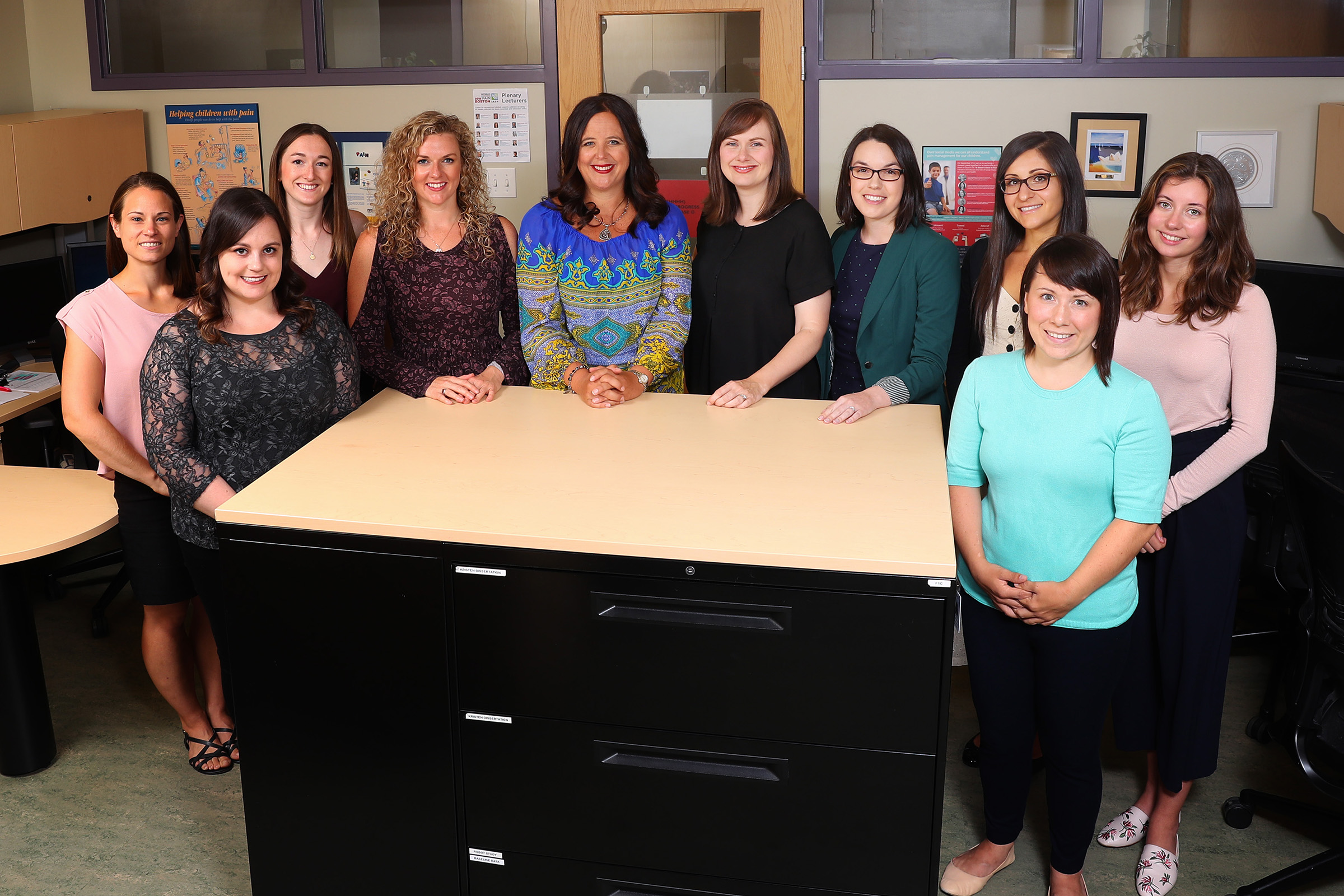 PhD Students
Perri Tutelman, BHSc (Hons.) (McMaster University)
Doctoral Student in Clinical Psychology (Dalhousie University)

Research Interests: The impact of pediatric pain on the family; pediatric cancer-related pain; pain management in palliative care and end of life; parent and family factors in pediatric pain management; patient engagement and knowledge translation

Email: ptutelman@dal.ca
Yvonne Brandelli, BA (Hons.) (University of Calgary)
Doctoral Student in Clinical Psychology (Dalhousie University)

Research Interests: Juvenile arthritis-related pain; family factors associated with the experience of pain in pediatric chronic illness; psychological and self-management interventions for pain management; knowledge translation

Email: Yvonne.Brandelli@dal.ca
Nicole MacKenzie, BA (Hons.) (Ryserson), M.Ed. (University of Toronto, OISE)
Doctoral Student in Clinical Psychology (Dalhousie University)

Research Interests: Her research is focused on procedural pain in pediatric populations, interventions for procedural pain management, and knowledge translation.

Email: NMacKenzie@dal.ca
Medical Students
Alexandra Reda (Dalhousie University)
Medical Student (Dalhousie University)

Research in Medicine

Email: alexandra.reda@dal.ca
LeAnne Revell (Dalhousie University)
Medical Student (Dalhousie University)

Research in Medicine

Email: LeAnne.Revell@dal.ca
Research Staff
Jennifer Parker, PhD (Dalhousie University)
Research Associate, IWK Health Centre

Adjunct Professor, Department of Pediatrics, Dalhousie University

Email: JenniferA.Parker@iwk.nshealth.ca

Phone: 902-470-7706
Justine Dol, MSc (University of Guelph)
Research Manager

Email: Justine.Dol@iwk.nshealth.ca

Phone: 902-470-6769
Brittany Cormier, MSc. (Waterloo)
Research Administrative Assistant

Email: Brittany.Cormier@iwk.nshealth.ca

Phone: 902-470-6769
Emma Cameron, BSc. (Hons.) (Dalhousie)
Research Assistant

Email: Emma.Cameron2@iwk.nshealth.ca
Zara Forbrigger, BSc. (Dalhousie)
Research Assistant

Email: Zara.Forbrigger@iwk.nshealth.ca
Kelly Hayton, BSc (The University of British Columbia)