Participate in Research
We are always looking for families who want to participate in one of our on-going research studies. Please click on the links below to find out more information about our current studies.
Risk and Resilience in Children of Parents with Chronic Pain
Adults who have had any type of chronic pain for at least 6 months AND are also parents of an 8-15 year old are needed for a research study at the IWK Health Centre to learn more about the impact of parent chronic pain on children. The study involves one 90-minute visit to our research centre. Parents and children will be compensated for their participation. Call us or email to learn more! (902) 470-6906 or CPPRWest@IWK.nshealth.ca
This study has been approved by the IWK Health Centre's Research Ethics Board.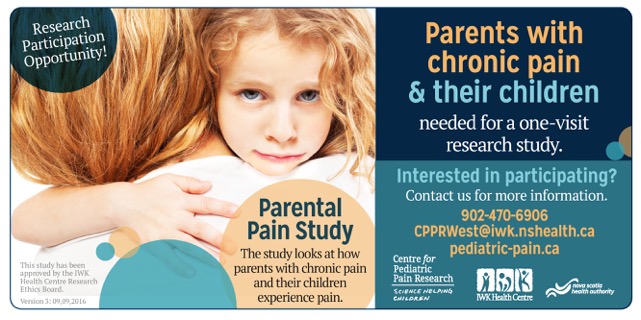 Interview Study for a Parent with Chronic Pain and their Child
Have you experienced chronic pain on a daily or almost daily basis for at least 6 months? Do you have a child between the ages of 11 and 17 years old? Do you live in Canada?
We are looking for parents with chronic pain and their children who should be between 11 to 17 years old, to take part in a research study. We will ask both you and your child to participate in a telephone interview. We ask you to answer several questions about your experiences as a parent with chronic pain and we ask your child several questions mainly about how they feel and react when you have pain.
You will receive an online gift card for your participation! Please call, 902-470-6906 or email CPPRWest@iwk.nshealth.ca should you have any questions or would like to participate.
This study has been approved by the IWK Health Centre's Research Ethics Board.