Blog: The Lancet Child & Adolescent Health Commission: Delivering Transformative Action in Paediatric Pain
October 19th, 2020
Every infant, child, and adolescent will experience pain at times throughout their life. Paediatric pain ranges from acute to chronic, and includes procedural, disease-related, breakthrough, and other types of pain. Despite its ubiquity, pain is often silenced and appropriate relief too infrequently given. Undertreated, unrecognised, or poorly managed pain in young people can have long-lasting negative consequences in later life, including continued chronic pain, disability, and distress.
It is time for change.
This Lancet Child & Adolescent Health Commission presents four transformative goals—to make pain matter, understood, visible, and better.
It sets out priorities for clinicians, researchers, funders, and policy makers, and calls for cross-sector collaboration to deliver the action needed to improve the lives of children and adolescents with pain.
Read the Commission (free to read with free registration): https://hubs.li/H0xDmRk0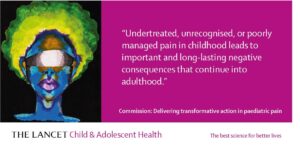 Current and Alumni Centre for Pediatric Pain Members included on the team leading the commission include: Dr. Christine Chambers (Dalhousie University/IWK Health Centre), Dr. Katie Birnie (University of Calgary), Dr. Paula Forgeron (University of Ottawa), and Isabel Jordan (Patient Partner)